Summary
To help clients understand our team's approach to design and communications work, I developed this customizable blueprint tool to model our cyclical strategy.
#ProcessMapping
#DesignOps
Problem Statement
Reflecting on past projects, we realized an internal need to combat preconceptions about how our team (as designers and communicators) engage clients. Hashing out shared responsibilities, opportunities to provide input, and the necessary number of review cycles in the middle rather than at the beginning of a project puts strain on working relationships and our ability to produce quality deliverables in a timely manner.

Team
I developed this product in consultation with the Communications, Change & Engagement unit director and Communications manager to ensure it effectively addressed their needs and could be incorporated into operational practices.  
As communications and design professionals in an academic setting, we:
1. can't assume that our clients are familiar with concepts like iterative design, integrated communication strategy, or user experience.
2. have a responsibility to set client expectations with absolute clarity - because we're not pixel pushers, mind readers, or subject matter experts. 
​​​​​​​Process
Through conversation with colleagues, we established that the bulk of client interaction generally focuses on collecting revisions or validating deliverables with stakeholders.
Then I translated the sketch into Adobe Illustrator, which you can see on the right. Insight from consultations with unit leaders led to decisions such as emphasis on the individual phases of work and to treat each phase as an individual module. 
Most importantly, stakeholder feedback informed the implementation of numbered convergence references. By documenting these interactions in a visual format, we can use this blueprint for alignment in early project phases so that down the line, we can assess our progress according to an agreed-upon artifact.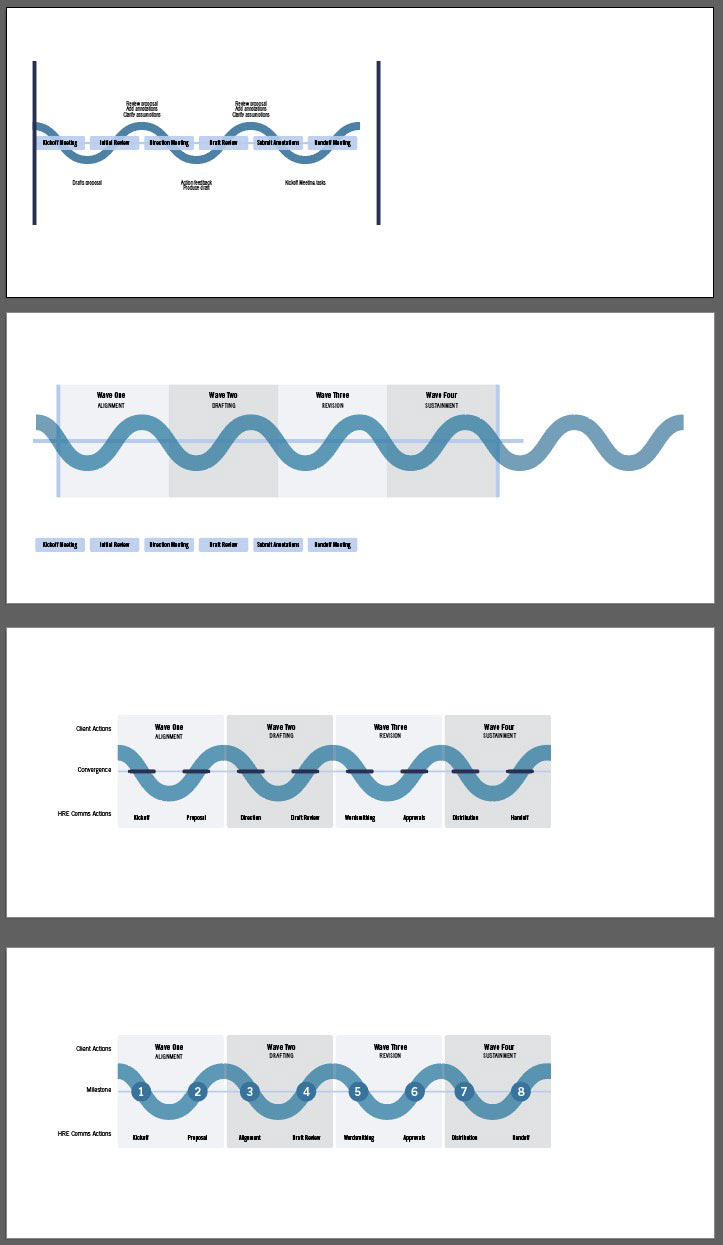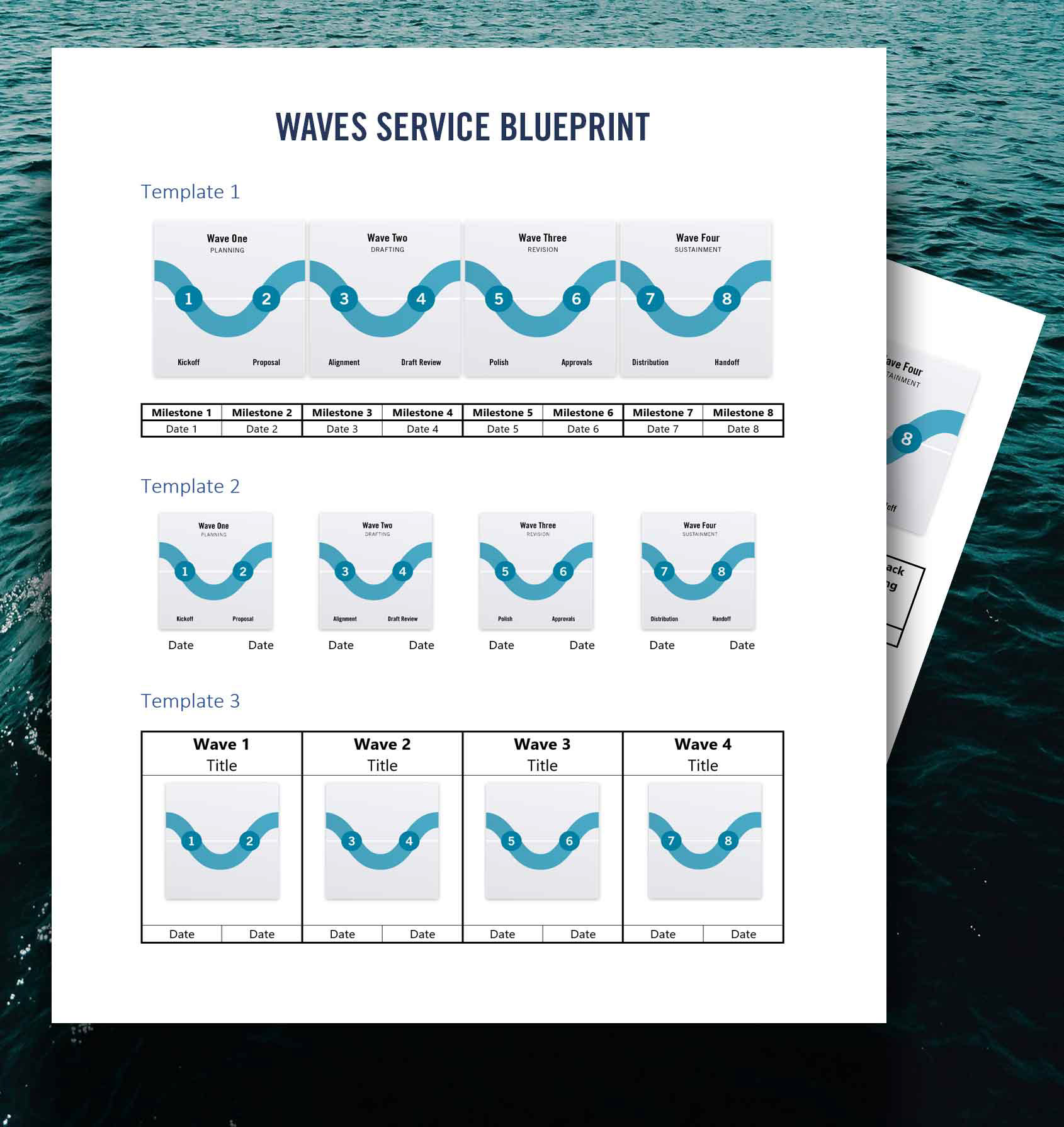 Transparency

makes

process
visual
.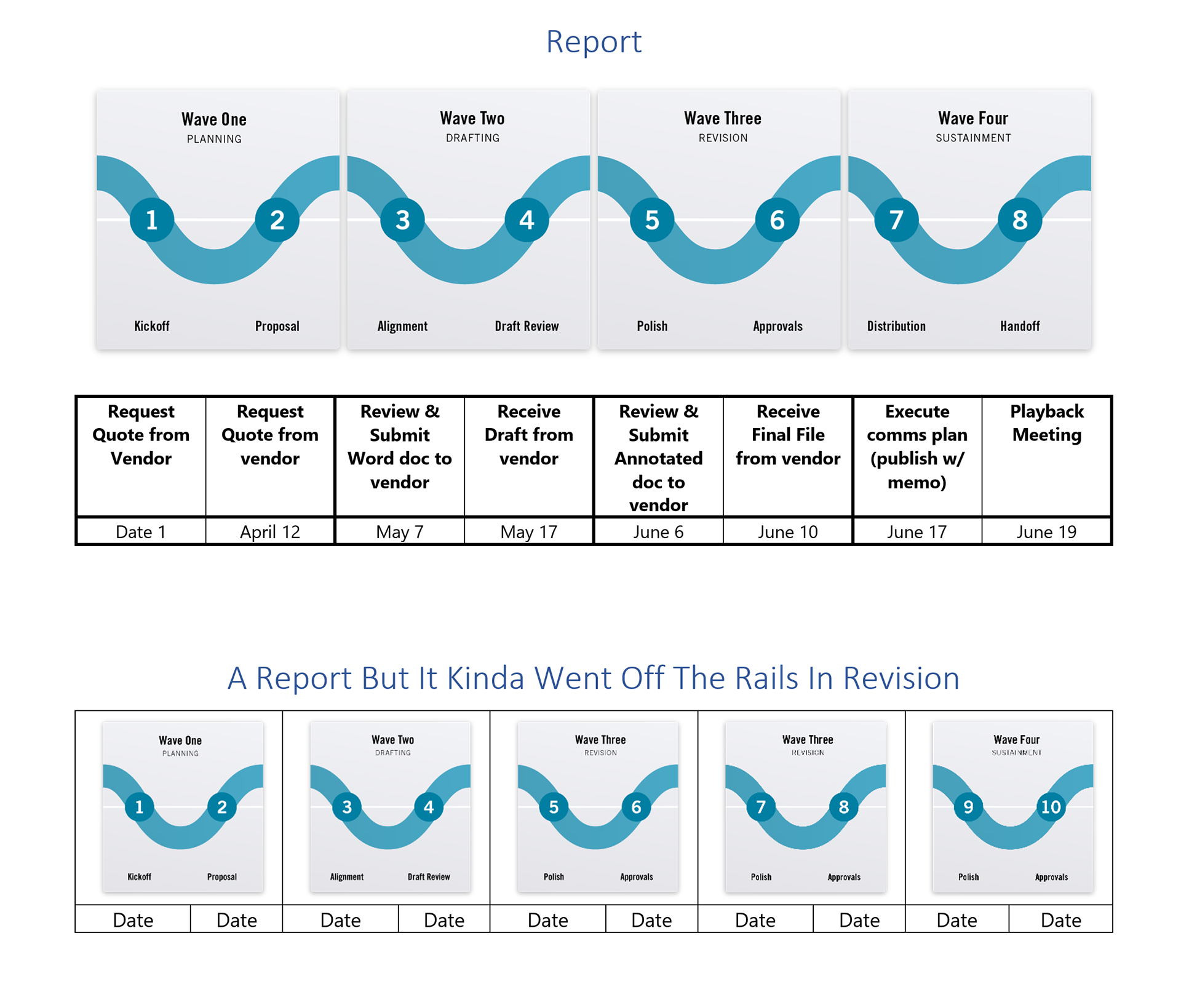 A visual representation of our process with the flexibility to accommodate the diversity of asks we answer
Using the Waves Service Blueprint, we can provide clients with a high-level view of a project's milestones, show how project deliverables come together, and eliminate ambiguity about our review cycles.

By providing my colleagues with several templates for Microsoft Word, it's easy to incorporate this visual in project planning materials.